By TJ Barnard, The  Independent
Does your kid sit around and pretend to sword fight or play a swordfighter in video games? For that matter, have you ever wanted to learn to sword fight? The Collierville Arts Academy at 188 Eastley St., allows you to fulfill your fantasy of being a medieval knight or samurai on the first Friday of every month, 7-9 p.m. Friday Knights Out is a fun introduction to real sword play, but with padded weapons.
"Students can learn real-world battle sword mastery without the blood and guts," said instructor Tom Knowles. The padded weapons course began after Knowles, who is a fencing master, noticed that young children weren't ready for serious fencing lessons.
"They were picking the foils up and slashing at each other like they were wielding lightsabres," Knowles said. "This gives them the opportunity to learn in a fun way without getting hurt."
During the two hours, participants play five different games: Battle Blitz, Last Samurai, Capture the Treasure, William Tell Archery Contest and King of the Hill Gladia-tor Duels. After each event, there are prizes.
"With the safety of padded weapons, full duel face offs become real," Knowles said. "You can fully engage each other."
Excessive force is not allowed, but just about everything else is. "This is a lot of fun," said 10-year-old Tierney Linville. "As just about the only girl who comes, I get to see how I do against the boys." Linville, a fencing student, was the only girl on June 9. "I like this just as much as fencing because it's less serious, more uncontrolled," she said.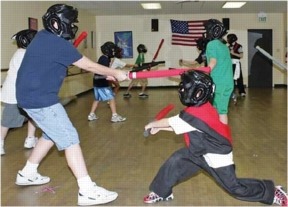 Friday Knights Out is open to all, not just fencing students.
"I like to come because you can just come and do it," Neal Lathem said. "You really don't have to sign up for a class. It just gives kids a chance to have fun. It's like a physical video game."
As the participants play game after game, smiles get wider and wider. And, the kids go home exhausted.
"It's a good work out," Knowles said. "You can lose some calories doing this." But, it's not just for kids. A business office could have a lot of fun, Knowles said.
Friday Knights Out is one of four ways to learn.
The academy also offers summer programs for ages six and up. It is advisable to reserve a spot or buy a ticket to Friday Knights Out because spots are limited. Academy members can buy tickets for $10. Non-members pay $15. For more information, call 861.7001.